FITNESS SUMMER CAMP
3 Days, 2 Nights (All Inclusive)
🕑 June 5-7, 2020

⛺ 2 night cabin accommodations
Bring your own bedding
Unlimited group fitness classes
Lead by Toronto's Top Trainers
Hiit, Pilates, Namaste In Bed Yoga, Barre, Hip Hop Yoga, Flow, Bootcamp & more!
(You build your own schedule!)
Unlimited camp activities
Archery, canoeing, SUP, high ropes, arts and crafts, climbing wall & more!
Unlimited workshops
Speakers, Meditation, Playshops & more!
🍽️ All healthy meals included
Including lunch on arrival and lunch on departure!
(Dietary restrictions can be accommodated)
🍻 Evening drinks included
(alcoholic and non-alcoholic)
👫 Co-ed
We'll help you find a carpool!
Just let us know :)
SAMPLE SCHEDULE FROM 2019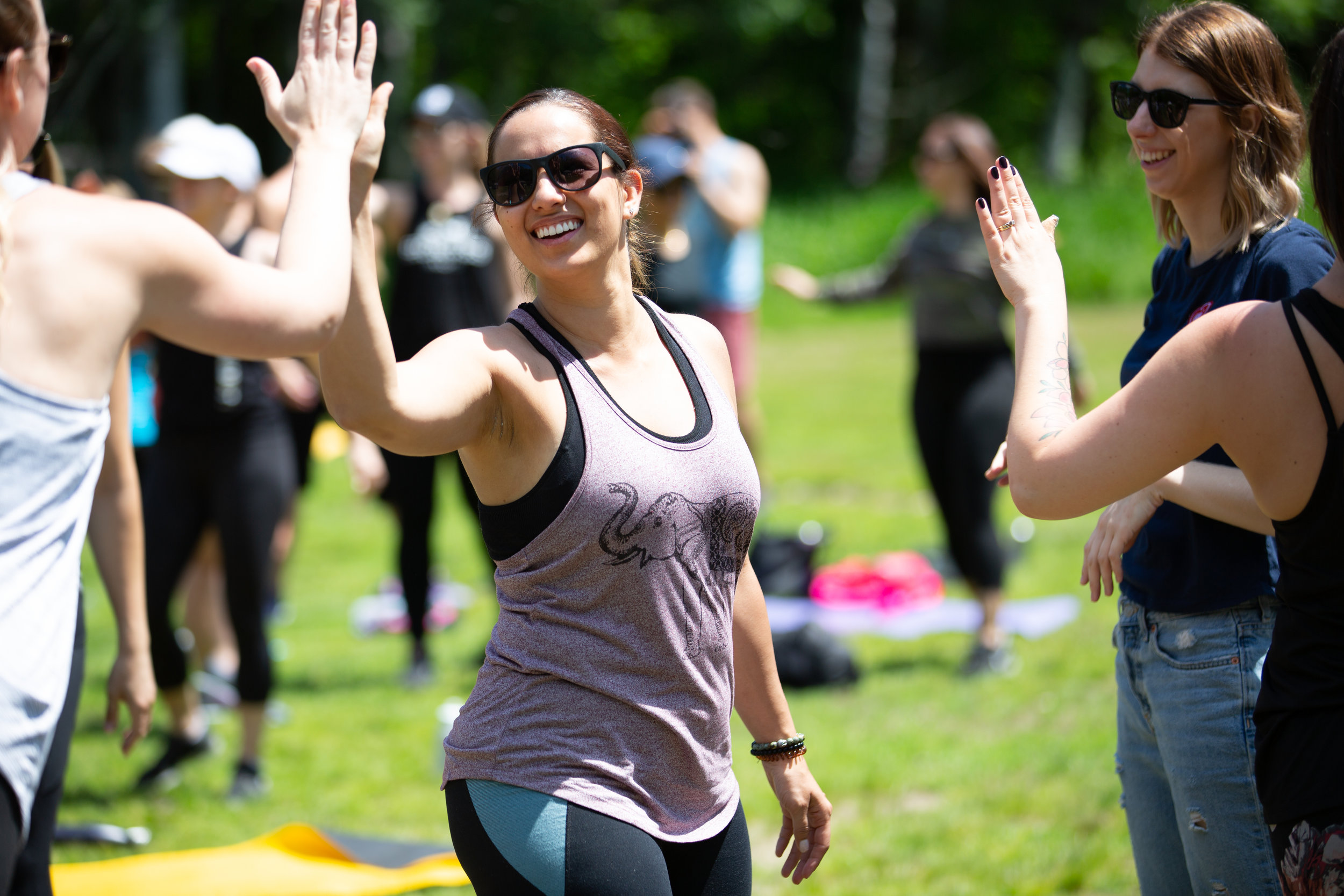 Camp Fuel raised me to a new level...brought me out of my shell, pushed me to face fears, break barriers, connect and play. It was new yet nostalgic. Scary but safe. Hard work but relaxing.
-Jessica
CAMP FUEL IS…
an adult summer camp meets fitness retreat, but above all else - we're a community. Camp Fuel is a place to connect with new people, reconnect with yourself and find your support system. We cheer each other on, lift each other up and push each other forward.
WHAT WE'LL DO...
At Camp Fuel we sweat in fitness classes like bootcamp, yoga, dance, SUP bootcamp and Hiit. We get the full camp experience with canoeing, kayaking, SUP, swimming, archery, high ropes, climbing wall etc. We'll play games, eat together and in the evenings we'll have a chance to unwind around the fire. You'll make your own schedule, so you get to build your perfect weekend.
WHAT'S PROVIDED?
2 night cabin accommodations, all meals (7 total! The food is soooo good), and as many group fitness classes, workshops or camp activities as you can fit into your day. You'll also get a sense of belonging, new friends, big laughs, fun, play, excitement, being in nature, nostalgia, a new experience, a chance to go back to camp & lots of high fives.

WHO YOU'LL MEET
The people at Camp Fuel are crazy inclusive, the best thing is that you can jump in on any conversation at any time and always feel welcome. When you arrive you immediately know that you belong here.

Some Camp Fuelers are fitness fanatics, others just love the outdoors, want to feel like a kid again or love the idea of an inclusive environment to meet new people. You'll have the opportunity to re-live the camp experience from when you were a kid or if you missed out, now is your opportunity to make up for lost time. Strong bonds are made at Camp Fuel! This is a 19+ weekend because alcohol is included around the fire in the evenings.
WHAT TO BRING:
Be sure to bring sheets for your bed, a sleeping bag, pillow, gym clothes, yoga mat (or towel), running shoes, sunscreen, bug spray, and toiletry items. Along with a super positive attitude 😉

WHERE WE'LL BE:
We're heading to the YMCA Camp Pine Crest in Muskoka, just 2 hours north of Toronto. Camp is located on the shores of Clear Lake with 650 beautiful acres of land to play on.
HOW TO GET THERE:
Join our Facebook carpool group if you have a ride to offer, or you're looking for a ride yourself. Free parking is provided.
Questions?
Contact us!
ABOUT HOST...
I started Camp Fuel, an all-inclusive fitness weekend for adults, because when I was twelve years old I had my first overnight camp experience and it changed me. There were cabins, bunk beds, high ropes, canoeing and a dining hall. I wasn't a social butterfly growing up so making friends was hard, and going to camp was a bit scary. But once I got there, I realized that camp was inclusive and encouraging – the counsellors made sure of it. I was able to be my authentic self and for the first time I felt like I belonged. Now, more than twenty years later I have the opportunity to bring that same feeling to adults. As a personal trainer and group fitness instructor, I love to motivate people to see their true potential, because adults deserve to know how incredible they are too. Camp Fuel is a growing community of like-minded people who encourage and motivate each other to reach new heights.
-Alicia Wood, Lead Camper at Camp Fuel
🤸⬇Check us out on CP24 Breakfast⬇🤸‍♀️